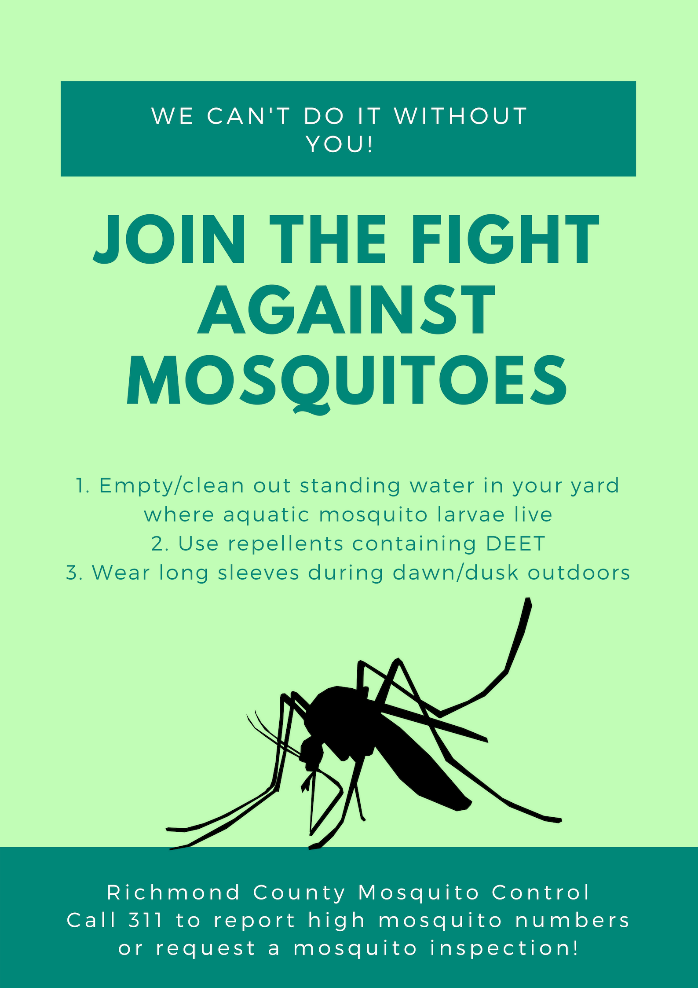 Our Mission:
To incorporate strategies of integrated mosquito control management that are effective, practical, environmentally safe and protect the health of Richmond County residents. In addition, to prioritize public education to give citizens the knowledge they need to be our partners in personal protection from mosquitoes. We serve to prevent large biting mosquito populations and the diseases that they transmit.
Our Program:
Our Team:
Leadership:
Important Mosquito Information:
Mosquitoes lay their eggs in standing water. To keep populations low, please remove standing water in your yard and local parks if possible. Dump bird baths once per week, dump wheelbarrows, tires, and kiddy pools after rains, etc. Water collected in a bottle cap can produce mosquitoes, so every bit of water helps!


Wear repellents that contain DEET or Oil of Lemon Eucalyptus to protect yourself from mosquitoes effectively.


Avoid activity at dusk as most mosquito species are most active during this time.


Wear protective, lightweight long sleeves and pants to protect yourself from mosquito bites.
Upcoming Events:
Check back for announcements for upcoming appearances of RCMC at local events!
LINKS TO WEBSITES
Georgia Mosquito Control Association
South Carolina Mosquito Control Association
Mid Atlantic Mosquito Control Association
American Mosquito Control Association
Call "311" to request a free mosquito property inspection.
Concerned about Zika? Here's what you need to know: https://ecphd.com/zika-faqs/